High-speed USB MIDI HOST box (UMH-21) is a new generation of USB MIDI host box launched by DOREMiDi. This product has standard high-speed USB2.0, which has the characteristics of strong compatibility, fast transmission rate and high stability. The product has a firmware upgrade function and is perfectly compatible with all devices with a USB MIDI interface. The USB HOST interfaceof UMH-21 supports connecting to a USB HUB, and expands to connect more USB MIDI devices. It supports not only Class Compliant devices, but also non-Class Compliant devices. You just need to make sure that the device's USB port has MIDI capability.
Main Feature:
1. DC IN interface: Productpower supply interface, use DC plug to supply power to the product, powersupply voltage 5V~12V. (Center-positive power supply)
2. USB-A interface: Standard high-speed USB MIDI HOST interface (USB2.0), used to connect USB MIDI devices and supply power to the USB MIDI devices.
3. MIDI 5-pin interface: One-in and one-out 16-channel standard MIDI interface for high-performance FTP processing.
4. Indicator light: product power indicator light, USB working indicator light, MIDI output/output indicator light.
5. UpdateKey: Support firmware upgrade, compatibility upgrade for special MIDI devices.
6. High compatibility: USB Host Compatiblewith all USB MIDI devices USB2.0/USB1.0/USB1.1,MIDI DIN Compatiblewith all musical instruments with MIDI standard interface.
7.The UMH-21's USB HOST interface can be connected to a first-level USB HUB (up to 4 USB ports). USB HUB>>‍
8.Click the "Mode key" UMH-21 to switch to Merge mode/Normal mode: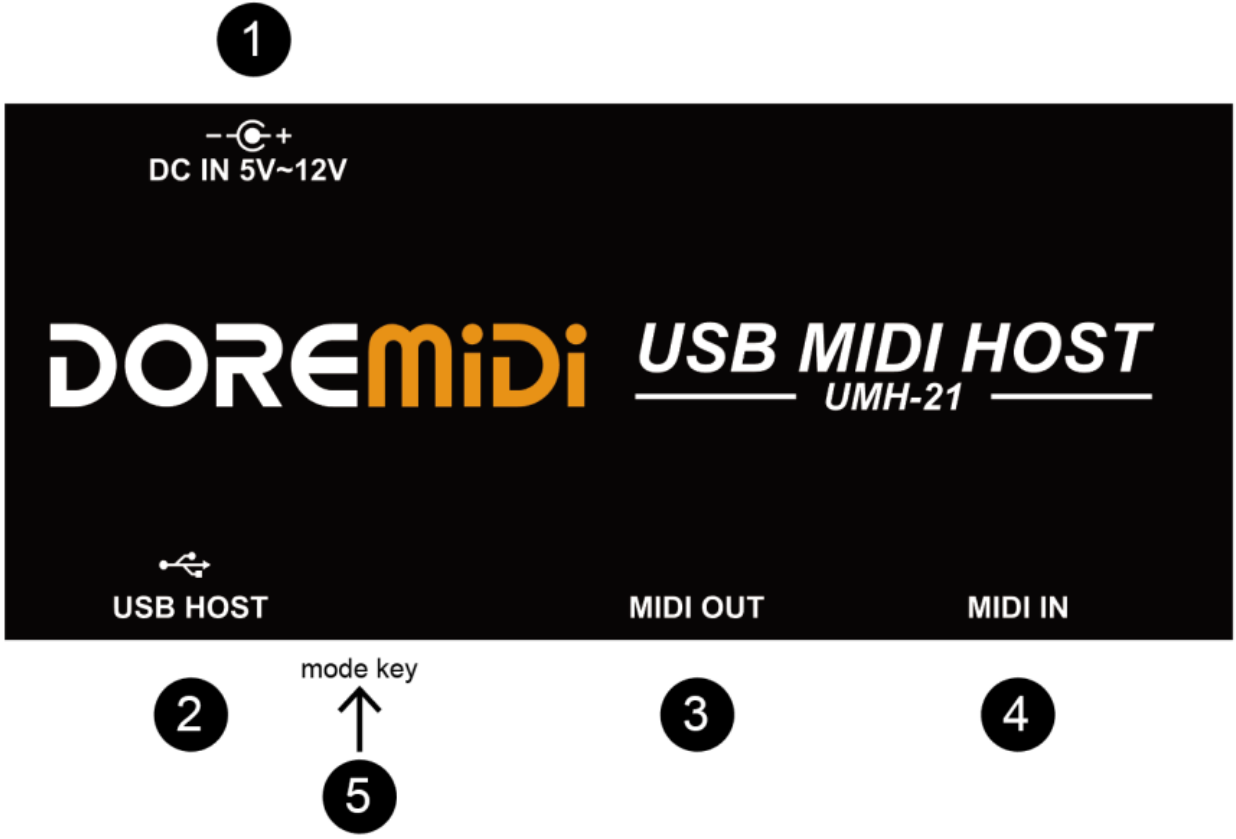 Download:
High-Speed USB MIDI HOST(UMH-21)Instruction.pdf
Firmware Upgrade Instructions for UMH-21
UMH-21 Upgrade instructionsV2.0.7.zip
1. Upgrade content: The Novation Launchpad mk3 series will send the same MIDI message twice.
2. Upgrade target: Only for users who use Novation Launchpad mk3 series products.
UMH-21 Upgrade instructionsV2.0.9.zip
1. Upgrade content: Solve the compatibility problem when UMH-21 is connected to an instrument through the HUB. Improve the USB HOST compatibility of UMH-21.
2. Upgrade target: Only for users who use USB hub to connect musical instruments with compatibility issues.

Firmware upgrade driver
If the computer cannot recognize the UMH-21 during the upgrade process, it may be that the computer is installing the driver. Please try to install the driver and then follow the firmware upgrade instructions.
Virtual COM Port Driver V1.5.0.zip
Other Versions Release Notes:
UMH-20 Upgrade instructionsV2.3.zip

1. Upgrade content: Added compatibility with BORA Piano.
2. Only for users who purchase UMH-20 products before July 31, 2021 and need to use BORA Piano.
3. Products purchased after July 31, 2021 are compatible and do not need to be upgraded.
UMH-20 Upgrade instructionsV2.4.zip

1. Upgrade content: increase compatibility with YAMAHA DGX Series, YAMAHA KX Series, and some USB MIDI devices that require a computer to install a USB driver.
2. After September 15, 2021, products purchased on the official website are compatible and do not need to be upgraded.
UMH-20P Upgrade instructionsV2.0.1.zip

1. Upgrade content: Solve the USB MIDI compatibility of some instruments.
2. For products purchased from January 6th to February 8th, 2022, if USB MIDI incompatibility occurs, please try to upgrade this firmware.
3. There is incompatibility with UMH-20. Products purchased after February 9 do not need to upgrade this firmware.